Last week I started a series on creating content during my free weekly webinar. I shared 5 ideas for different types of web content you can easily use on your websites and blogs. After the live webinar, I "repurposed" those tips into a blog post about web content here at ClickNewz.
Repurposing is a great way to easily create a lot of quality content. If you look through that post, linked above, you'll see that I took the 5 types of web content and expanded on each one with my own tips and examples.
Even more interesting is the original source of these tips - specifically the 5 types of content. So I'm going to share that source with you here, which was actually a PLR article that I purchased in a larger pack of PLR content, and show you the article rewrite in action...
PLR stands for Private Label Rights. You can buy it very cheap and then you have full rights to edit, alter, change the format, publish and claim authorship. It's a great starting point, and a great way to come up with new content ideas.
You can easily turn the content of a PLR article into a topic for a video or audio, a live webinar or teleseminar, a blog post, or use it to create articles for article marketing. You can even use the content for email newsletter ideas, or turn several related PLR articles into a short report.
For creative content-writing ideas, see:
How to Repurpose Your Content - Correctly
5 Types of Web Content That Readers Love
Let's start by taking a look at one of the PLR Articles that I recently purchased, and then we'll dissect the article rewrite that I did with that piece of content. Here is the original PLR article: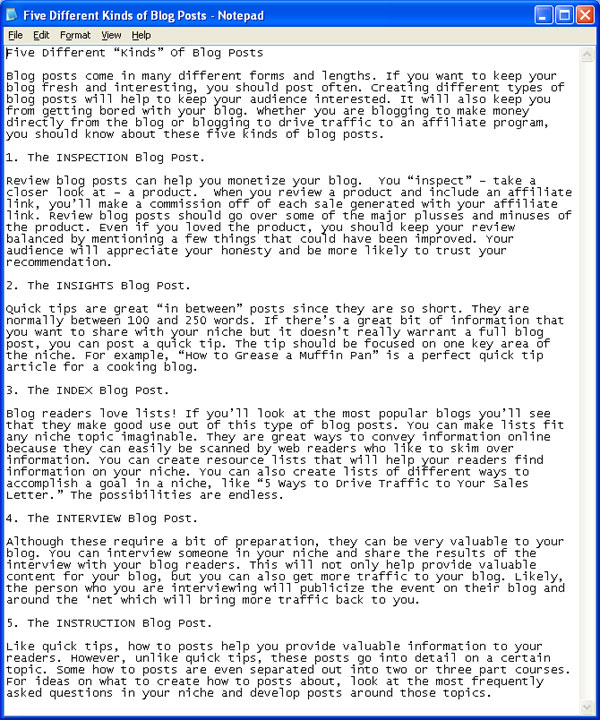 You'll find the article rewrite published here, in my web content blog post. I actually took the original "5 different kinds of blog posts" and turned it into "5 types of web content". Let's take a look at a couple of excerpts from that post: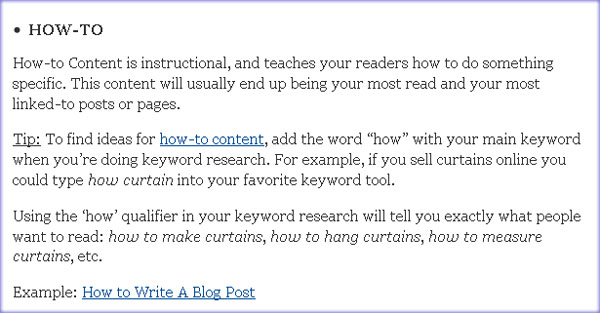 As you can see in this example (above), I turned the "instructional blog post" into "how-to content". It's the same basic concept, but with a bit of a twist. By the way, I prefer the personal twist to the 'automated spin'.
In this next example (below), I turned the "inspection blog post" into "review content":
As you can see, if you look at my post, I kept the same 5 concepts, reordered them a bit, changed the article title and re-worded each of the 5 points. I also included examples from my own archives, which helps to interlink related content here on my blog - as well as serve the purpose of being a visual example.
- - - - - - - - - -
So I took one PLR article and used it as a topic idea for a live webinar. Then I published the tips in more detail on my blog. I continued on even further by creating a series on the topic of content development. Since I purchased 5 articles in this particular PLR pack on this one topic, it's very easy to do a simple series. You'll see now that there are already 4 posts - and I already have 3 more posts for the series in queue.
A series makes for great content because readers enjoy following a topical series, it gives you the opportunity to do some internal linking between related posts, and it can help you easily get that coveted double listing in the Google search results.
These posts also create content on my Facebook Page, in my Twitter stream, and of course my email notification list. So in addition to the webinar, that is 5 places that one PLR article inspired interesting new content. And that's just one article out of the dozens I received in this particular PLR pack purchase!
I hope this gives you some creative ideas for ways that you can use or repurpose PLR articles, or any content with Private Label Rights. To close, I'll give you a few of my favorite PLR sources:
***** DIY PLR by Alice Seba *****
Easy PLR by Nicole Dean. This is one of my favorites because she offers articles, reports and ecourses - and on a variety of topics, including: online business, online marketing, exercise, fitness, diet, frugal living, green living, pregnancy & parenting, homeschooling, home decor, holidays, video games etc.
Nicheology by Paul Evans & Mark Thompson. Not only do they have tons of PLR on a wide variety of topics, they also offer extensive info-publishing training to their members.
Need-an-Article is a great resource as well. You can have content written for practically any purpose, including: articles, press releases, blog posts, website content, etc. And you can have this content written for as little as $5. They even offer re-write services for your PLR articles.
Best,

Also See: Web Content Writing Resources