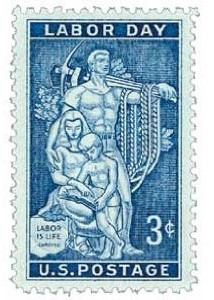 Labor Day is an American federal holiday observed on the first Monday in September that celebrates the economic and social contributions of workers. source
See the quote on the vintage American Labor Day stamp? That quote, "Labor is Life," was by Thomas Carlyle. Another of his famous quotes is:
"Nothing builds self-esteem and self-confidence like accomplishment." -Thomas Carlyle
I like that one. So very true.
Labor Day is a three-day weekend that most Americans celebrate as the "end of summer" with cookouts, get-togethers and one last big weekend of swimming & boating. It originated from the labor union movement - and more specifically the eight-hour day movement which advocated eight hours for work, eight hours for recreation, and eight hours for rest.
Prior to that labor conditions were harsh, some workers pulling 12-16 hours a day, six days a week. (Um, been there. LOL.) I love looking up the history of holidays, and digging into their origins. And history in general, for that matter. I had a major head trauma when I was 20 years old that caused Regressive Memory Loss, so I've had to learn History all over again as an adult.
I really enjoyed sitting down and reading up on Labor Day, the history behind it, and how & when (and why!) it's celebrated in other countries.
The internet is a lovely thing with it's endless interlinking from one fact to another and the seamless flow of historical information.
As I was enjoying my research with a cup of coffee on this rainy "end of summer" morning, I came across two more quotes by T.C. that I wanted to share with you:
"Our main business is not to see what lies dimly at a distance, but to do what lies clearly at hand." -Thomas Carlyle
"I've got a great ambition to die of exhaustion rather than boredom." -Thomas Carlyle
Both worth reading again, and pondering for just a moment...
I feel a deep sense of gratitude this morning, for living in a time and space in history that allows me the opportunity to build a business... and create my own lifestyle.
While I've worked hard, and yes - even pulled 12-16 hour days for weeks straight - it was my choice. And it was an investment in my dream. I feel very fortunate indeed.
* * * * * * * * * *
I hope you've had a fabulous weekend, and for those of you in the United States... Happy Labor Day! May it be filled with family, friends, hot dogs, laughing children and chubby puppies.
*cheers*
Best,

p.s. How do you celebrate Labor Day? Leave a comment below and share!