It's late on Saturday night and I am up working on the $20k in 20 Days challenge... Officially this is Day 12 of the challenge for me (we all have different start dates), but when I sat down to work on it today I was actually (yes, still!) somewhere on Day 4.
Of course, I'm taking the weekend to do a little catch-up work, so I'm whizzing right through the steps at this point. 😉
Earlier this week I hosted a Mastermind Meeting for fellow challengers that are involved in the 20/20 Challenge. The purpose was for open discussion, brainstorming, and to answer any questions they had.
That online meeting actually went quite well, and while I cant share the contents of the 90 minute brainstorming session with you... I will tell you a couple of things we discussed that really impressed me.
First was the overall attitude and motivation from the group as a whole. Nobody at the meeting was exactly where they wanted to be day-wise. In fact, many of them were still on Day 3 and finding it quite a hurdle. I can relate - Day 3 & Day 6 are probably the only two real hurdles out of the entire 20-day plan...
That is the reason I named this entry "Day ?"... I'll have a better idea what day I am actually on by the first of the week, so I'll be sure to post then and give you the update.
The second thing that impressed me during our mastermind meeting was the overwhelmingly positive response to the 20/20 Challenge. There wasnt a single person in the room that intended to take Michael up on his guarantee. And they ALL felt fully confident they could earn at least $20,000 with this step-by-step strategy.
Way to go, Michael! 😉
By the way, the recording and transcript are available to participants of the 20/20 Challenge. You'll find that download in the private support forum that comes with your toolkit.
In addition to hosting the weekly mastermind meetings, I also extended another free offer to fellow challengers (no details here, but you'll find it in Michael's private forum as well) so I have been busy with that behind the scenes. I'm also working one-on-one with several participants, and have made their emails & messages my top priority.
Thus endeth my excuses for still being on Day 4 😉 LOL
I'm actually not exactly on Day 4 but like I said, I'll give a more exact update at the beginning of the week. For now I am doing some catch-up work, feeling very motivated about this challenge and enjoying it a great deal!
By the way, I received a note from Michael Green earlier today about the half-price offer. He has extended it for 7 more days (probably 6 by the time you read this). If you arent already involved in the 20/20 Challenge, its a GREAT time to get in 😉
Best,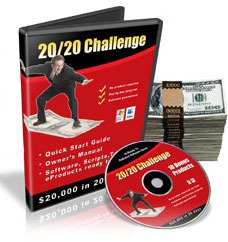 Technorati Tags: make money online, michael green, 20kchallenge, 20k challenge, 20k in 20 days, internet marketing course