In this week's 20/20 Mastermind Meeting, everyone who joined in was still working between days 3 and 6 of the 20-day challenge. While this is officially Day 18 for me, I started my day within that range myself.
We had a much smaller group attend the online meeting this week. The question is: are people dropping out of the 20k Challenge, or just waiting for the recorded archive of the meeting to listen in later? Is the pressure on, or is the momentum dropping off?...
If you arent already familiar with it, I'm referring to Michael Green's 20/20 Challenge - a challenge to earn $20,000 in just 20 days. You can still join in, and the price is still dramatically reduced. Oh - and Michael guarantees the results with this Challenge. 😉
We are approaching the 20th day since this Challenge was publicly launched, so those that got in at the beginning should be incredibly close to Day 20 - if not on it today. At our meeting some challengers were feeling the pressure, worried that they were being left behind and everyone else was far ahead of them. Others werent worried at all, holding their pace "with blinders on" (including me)...
As I said, this is officially Day 18 of the 20-day Challenge for me. I am not actually on "step 18" though - I'm a bit behind for obvious reasons. That said, I got FAR MORE than $247 in value from this already, and intend to march forward at a steady pace.
My issue has not been so much in jumping that "Day 3 hurdle" (a big one for some challengers), but in finding the time to work on the daily steps every single day. I have actually made considerable progress since my last update, but most of the work towards this challenge happens in spurts for me.
This weekend, for example, is a 4-day Fall Break for the kids. Long weekends are always a great opportunity for me to do catch-up work, and so I expect to make a lot of headway today and tomorrow.
You would think I would get less done with the kids home, but its quite the opposite. The school schedule is fairly hectic (when you include extra-curricular activities) and forces me to work during the most interruptive part of the day: daytime 😛 . When the kids are out, I can work late and sleep in, which for some reason results in much higher productivity.
This time of year I am always busy updating affiliate sites, and as you probably know I'm working overtime until I get a new team together. My discussion forum has been particularly active lately as well, requiring more of my time and attention.
But then, I imagine everyone who joined in on the 20/20 Challenge had a full-time job, a business to run, or an otherwise busy life. So I'm not making excuses, but giving you an update on where I stand and how the Challenge is going for me personally.
I cant really give you details about what it is that I'm working on for this Challenge... so I'll just say what I can. Those that are "on the inside" will know what I mean 😉
I have retained services from 2 people this week - one to take some tasks off my plate and free me up to work on my Challenge, and another to help me with one of the tasks in Steps 5 & 6.
I am actually ahead in several ways, and so my 20-day Checklist has checkmarks all over the place. My goal by the end of the day is to analyze my progress, jot out a quick "fast track" strategy to catch up where I need to (incuding outsourcing where necessary), and then work down that list today and tomorrow.
I'm one of those strange people that works well under pressure. Or to put it another way: I'm one of those procrastinators that generally gets things done in one big all-nighter... the night before. 😀
Not recommended. Particularly not for a step-by-step, day-by-day Challenge like this one. But that is where I stand nonetheless.
I'm off to work on my Checklist and find out where I am... and see how much more progress I can make today. Expect another update from me tonight (though "tonight" may be the early hours of tomorrow, depending on how late I work 😉 ).
Edit at 12:39am: Better make that tomorrow - I can already see that I'm going to stay busy on this tonight, so I'll save the update for tomorrow!
Best,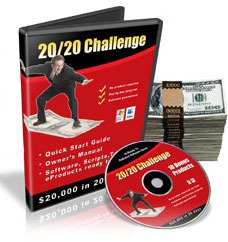 Technorati Tags: make money online, michael green, 20kchallenge, 20k challenge, 20k in 20 days, internet marketing course