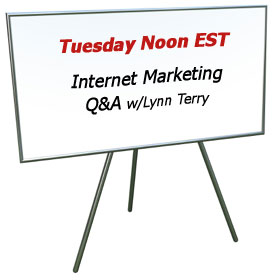 This weeks Free Webinar is on Keyword Research and Locating Niche Markets.
If you want to join in, click on the link above and register for the webinar notification list. You'll receive the login information, including the unique password each week, by email. There's no catch - just sign up, log in & join us!
The free webinars are reserved for the first 50 people who log in, so be sure to arrive a few minutes early to grab your 'seat'! It is an online event and you log in via web browser, so there are no long distance charges. Just hook up a headset or speakers so you can hear the audio.
Date: Tuesday, November 27th
Time: Noon EST, 11:00am CST, 9:00am PST
In this week's webinar on Keyword Research we are going to discuss:
How to use WordTracker's free keyword research tool to locate keyword phrases and potential niches
Locating and choosing niches to work with
What to do with keywords - specifically
True competition analysis
... and much more. In fact, bring your questions about locating niches and researching keywords. I will be taking questions via text chat or voice chat throughout the 60 minute webinar, so this is a great opportunity to get your specific questions answered!
Just make sure you are on the webinar password list, and then plan to join us at Noon EST on Tuesday...
Best,

P.S. Post your questions about Keyword Research below in the comments section, and I will address them on today's Webinar. I'll also answer them here 😉