I'm a minimalist when it comes to add-ons, plugins and software programs. I like to run my computers and blogs as clean as humanly possible...
But I just installed this amazing WordPress plugin, because I practically HAD to. I'll explain why - and what you're going to LOVE about it. 🙂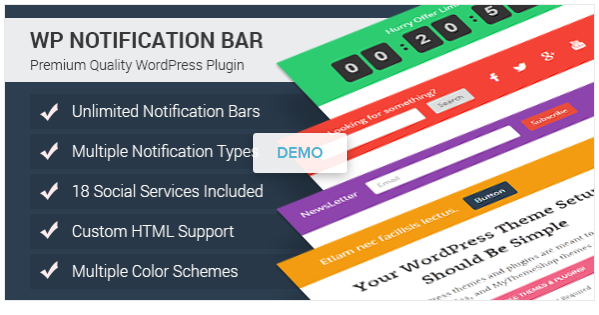 View Live Demo
That's my affiliate link, and in addition to the plugin itself I highly recommend you join the affiliate program. You're going to want to share this with others!
WHY I Installed The WP Notification Bar
Let's start with the "why" because I think that's the most important point. There's one main reason, and then countless other reasons I've discovered that it's totally amazing now that I've actually started using it.
My Instagram following has exploded this year.
But even before that, I noticed in my site stats that the majority of the visitors to my niche site were using tablets or mobile devices. Add in Instagram, which is a mobile-only platform, and that number went on the rise - and fast!
You're probably seeing a similar pattern in your own stats?
The fact is, most people are using mobile devices or tablets these days.
I had one main problem that kept coming up. People in my Facebook Group and on my Instagram account kept asking me "How can I subscribe and get your emails??" That is a GOOD problem to have. Not that they cannot figure out how to sign up, but that they want to bad enough to take the time to ask. 🙂
Realizing they were on a mobile device and couldn't see my sidebar, which has a very obvious subscription form at the top right, I started adding in a subscription form to every post. Still, they actually had to open a post and scroll down to the very end to find that box. And that didn't slow down the number of times a day I got asked "how to subscribe to my site."
Guess what?
Most people will NOT ask. They simply won't see the option, won't realize there IS an option, and so they don't subscribe to your email list.
That is NOT a good problem to have. 😛
I had to come up with a simple solution that would work well for mobile users, and also desktop users. I could have picked any old WordPress plugin that had a mobile-friendly opt-in overlay...
Here's why I chose the WP Notification Bar
First, because it came highly recommended by my friend Elaine Perry, which is what prompted me to check it out as a potential solution to my problem.
I was immediately impressed! This is NOT just another opt-in bar. Here's a quick description of this versatile, high performing notification bar plugin:
WP Notification Bar is a custom notifications and alerts plugin for WordPress that displays a sleek message bar on your website.

It can help you grow your email list, manage marketing promotions, increase your social media following or grow the audience for specific pages on your website.
This image gives you a few visual examples of what it can do:
It was SO easy to set up!
It has a very friendly user interface, with tons of options already built in, making it easy to connect your mailing list manager and set up a variety of notification bars on your blog or WordPress site.
You can set up a general site-wide notification bar, but you can also set up specific/unique notification bars on individual blog posts.
So if you want to notify readers of something relevant to THAT blog post only, you can do that! 🙂 I'll show you some live examples since I have it set up on my own niche blog. Check it out on both your mobile device and your desktop...
Live Examples On MY Blog:
How cool is that?!
You can scroll your recent posts, create a strong opt-in incentive, play a video only on certain pages or posts of your site, add an animated bar with an affiliate link on review/product posts, put a countdown timer on special offer pages or posts, etc. There's tons you can do with this one little plugin! 🙂
I've only started using it in the last couple of days, and I'm already seeing fast results. For example, there were 8 clicks on the Keto Krate notification bar... and 4 sales. 🙂
YES, you get stats for each of your notification bars!
Check out WP Notification Bar & View The Demo
Again, that's my affiliate link, and in addition to getting the plugin you should join the affiliate program so you can share this with others!
The uses for this notification bar is giving me tons of creative ideas to test out on my niche site. 🙂 It'll be a PERFECT way to promote my new product when it comes out, a great way to monetize archived posts that are getting steady traffic, a great way to encourage visitors to join challenges when I host them, and obviously a GREAT way to increase affiliate conversions on product-based posts & reviews!
Consider all the ways you could use this on YOUR site...
I would love to hear your thoughts!
Best,

p.s. When I got the WP Notification Bar, there were tons of free plugins & resources in my account when I logged in to download it. Cool free WordPress themes, even! I was seriously impressed with that. They REALLY over-deliver. 🙂