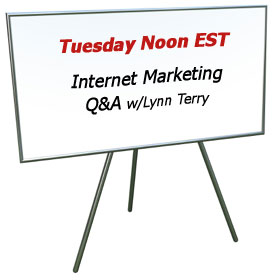 Join us online today for a Free Webinar: Live Internet Marketing Q&A
This week we are doing our popular open-discussion style Q&A on Internet Marketing. Got questions? Get them answered!
You can join in simply by logging in through your web browser. There are no long distance calls.
There is a unique password for each week's event and you can get the password by registering on the Webinar page.
Bring your Internet Marketing questions and join us online today! This event is open discussion style, and is a great way to get your questions answered about Internet Marketing and Online Business:
Date: Tuesday, April 22nd
Time: Noon EST, 11:00am CST, 9:00am PST
Make sure you have a headset or microphone hooked up before you log in, so that you can participate in the Live Q&A. If you prefer not to speak out, you can use the Text Chat option to submit your questions instead.. At the very least you'll need speakers so that you can hear the audio portion of the event.
There is a limit on the number of participants for the live event, so be sure to arrive a few minutes early to download the plugin and grab your 'seat'! Again, all you have to do is register for the webinar notification list and you'll receive this week's password and the Login URL.
If you would like to post your Internet Marketing questions in advance, to be covered during the live Webinar, you can submit them below in the comments section.
See you there!