Chris Jacobson asks: What Is The Best Affiliate Program? Which affiliate networks do you find deliver the best results to you as far as conversions go? And what is the best method in your opinion of promoting such affiliate offers... AdWords, forums, USfreeads, etc.?
---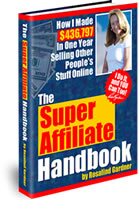 The Super Affiliate Handbook by Rosalind Gardner: This is the amazing true story of how one woman, with no previous business experience, earns $500,000+ per year ... selling other people's stuff online!
Download The Super Affiliate Handbook
---
I get this question a lot, but its impossible to give a cut 'n dried answer. There is no best affiliate program, or best affiliate network. The key to success is finding a good match with an affiliate program, a target market, and the marketing campaign used to reach that market.
I've had success with a wide range, from independent programs to affiliate networks, and from pay-per-lead (CPA) offers to one-time sales of both digital and physical products. The same goes for promotion strategies. Again, there are many ways to successfully promote an affiliate program. It's all about finding the right combination.
You are going to start in one of two places. You'll either find the niche or market, and then choose an affiliate program to monetize that niche. Or you'll find a great product or affiliate program, and then look for the best way to promote it. Either way is fine, and in fact I do both on a regular basis.
When it comes to choosing a program there are a few key things that you want to look at in making your decision. First and foremost: Will people actually buy this product? Look at the landing page that your affiliate link takes visitors to, and analyze it from your ideal visitors perspective. Would you buy it?
Commission structure is also important. A lot of affiliates are attracted to high-ticket items simply because of the commission rate, but keep in mind that low-priced products tend to convert at a higher rate, due to impulse buys, and that the numbers can equal out in regards to profit potential.
If you are going to create a website around a product line, then you'll want to make sure the merchant offers deep linking - meaning they allow affiliates to link directly to internal pages and specific products.
There are tools and stats on some networks that will give you an idea of which programs or products sell best - but this is not always an accurate indicator. If you think you've got a good program on your hands, the next step is to test it.
The best and easiest way to test an affiliate program is to use Google Adwords to set up a pay-per-click advertising campaign. This will give you a good indication of the interest, and the conversion rate.
Ultimately, the best affiliate program is the one that converts well with your target market. Dont try to sell loans on your puppy dog website - sell puppy supplies. It's that simple.
If you dont have a website yet, that's your first step. You will either find a great niche, or a great affiliate program, and use that as your starting point. From there, you absolutely must set up a website. It will be impossible to become a successful affiliate marketer without one.
Best,

p.s. Rosalind Gardner is the woman you should follow if you want to learn the tricks of the trade. See: http://www.clicknewz.com/super-affiliate-handbook.htm She is the one that turned ME into a super-affiliate 😉