Question from Jared Lee of The Bloggers Desktop: I notice that you use redirects for your affiliate links, and I am curious why you do that. Should I be setting up redirects each time I recommend something as an affiliate?
There are several reasons to use redirect links - cloaking, tracking, etc. But the #1 reason that I always create a redirect for an affiliate link is so that I can manage my affiliate campaign long-term.
Over the years I have seen merchants pull a product, or even close their affiliate program. But more often than not they will change affiliate networks, or change their linking structure, which means that you have to update your affiliate links in order to continue earning commission.
For example, lets say that you recommend your hosting company quite often. Over the years you may have posted links in PDF files, on discussion forums, on various pages of your website, in blog posts, etc. If the hosting company decides to change their linking structure, all of your links go dead and you'll have to update each one of those links individually (and good luck finding them all!).
But if you set up a redirect link, all you have to do is update your redirect... and your commissions will keep rolling in. Its the best insurance you have in the ever-changing affiliate landscape 😉
3 Ways To Stay On Top Of The Ever-Changing Affiliate Landscape
Best,

---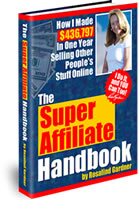 The Super Affiliate Handbook by Rosalind Gardner: This is the amazing true story of how one woman, with no previous business experience, earns $500,000+ per year ... selling other people's stuff online!
Download The Super Affiliate Handbook
---