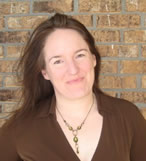 Hi - again. I'm Nicole Dean and I'm a Guest Expert here this week as part of my Blog World Tour.
Yesterday, I chatted about the importance of having a list, but, more importantly the ease of setting up an ecourse. I'm a busy mom and enjoy travel. I go the easy route whenever I can. I count on my autoresponder to keep my business running whether I'm watching karate practice or reading bedtime stories.
If you missed the first post in this series, you can catch up here:  Easy Email Marketing for Busy Marketers
More Praise for Ecourses.
Here's another reason why ecourses are wonderfully profitable - List Segmenting.
When done correctly an ecourse can help you to segment (and therefore, better serve) your list members. Therefore, when you set up your ecourse, you should be highly targeted in what you're offering and to whom.
Untargeted Example (Don't do this!)
I have a mailing list that I set up back in 2005 for work at home moms. Honestly, I never know what to send them. Do they want affiliate marketing info? Traffic generation tips? Content ideas? Infoproduct advice? It's very hit-and-miss and I never quite feel like I'm able to build the type of relationship that I'd like to build with that list.
I also hear this from mom bloggers all the time. They start a site for moms, and then their lists don't convert into money. Why? Because it's very hard to write an email that resonates well with both moms of toddlers who need potty training advice and moms who are interested in helping their teens get through the teen years with their self-esteem in tact. You'd be all over the place, and couldn't possibly help OR sell very well to either group.
Very targeted Example
Jimmy D. Brown's PLR Special Offers list is highly responsive. (I know that because I'm his affiliate manager.) The site is simply an autoresponder series that sends special offers about quality internet marketing PLR reports and articles. Easy peasy.
If that sounds interesting to you, you can sign up free here: PLR Special Offers.
Big Tip! Make your Ecourse Appear to Be a Highly Valuable Gift.

Today we'll move on to a few of the many ways to promote your ecourses, but first, I'll share a big hint.
Set up a squeeze page for your ecourse on a hidden page of your website. This is handy for referring people to your ecourse as a bonus or freebie. Just be sure to name it something enticing – not www.yourdomain.com/ecourse.html
Name it www.yourdomain.com/gift or www.yourdomain.com/special so that it appears to have more value.
Other hints:
Include a graphic representation for the ecourse or a special report that people will get when they sign up.
Show a dollar value for every item that your list members will receive.
Add testimonials to your squeeze page for your ecourse or for anything that you've done that's relevant.
Then, once you have that set up on a hidden page, you can give the ecourse away as a bonus.
Where can you give away this new bonus of yours?
When you are interviewed on podcasts, teleseminars, and webinars. During the interview, refer people to the free gift that they can receive just for being on the call.
In your author bio in articles that you write. This is a great strategy to getting people to click through your author bio for their valuable freebie.
Inside videos that you submit to YouTube. Offer the free ecourse as your call-to-action in the video.
Mention the free gift inside all pdf reports that you create.
Include the gift as a bonus for customers who purchase your products.
And, of course, mention it during your other ecourses. While I don't encourage you to automatically sign your readers up for info they didn't sign up for, you can let them know about your other ecourses as they wrap up the one they're reading.
Those are just a few ideas off the top of my head.
Picture a spider web. You know how all of the lines cross over each other? Your ecourses and offers should look like that. Lead your visitors from one piece of valuable content to another. (Note again: "Valuable") Your readers should always feel like you're overdelivering and be excited about your next ecourse/offer/etc.
Reminder: Resources to Learn More.
Did you read these yet? They won't do you any good on your hard drive. (hint, hint)
How to Create an Ecourse in One Day
6 Steps to 6 Figures with List Marketing
I'll be back tomorrow with more.
Warmly,
Nicole Dean