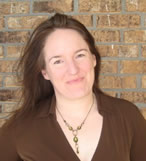 Hi. I'm Nicole Dean and I'm a guest here on Lynn's blog this week talking about ways to build your mailing list – specifically by creating ecourses (or as I like to call them "passive profit partners").
Today, we're on day 5 of this series, and I'm going to wrap up with two more ideas (one of which is a big secret).
But, first, if you missed any of the past 4 posts, you can catch up here:
So far I've chatted about…
2. Getting People Excited about your Ecourse by Making it  a Valuable Bonus.
3. Promoting your Ecourse by Repurposing one Message and Clever Ways to Create Buzz.
Now, this next strategy that I'm sharing today is a BIG secret, so don't go telling, ok? 😉
In a few of my ecourses, I put up a squeeze page and then post every message to a hidden page in a folder on that website rather than delivering the messages in email.
The page that I send my readers to may look something like this: http://bit.ly/lkUOP
As you see, I send people to this page from my ecourse so that they can learn more about using PLR and how to choose a quality PLR provider. By posting the bulk of the message on my site, rather than sending it via email, it helps me get past the SPAM filters, since my messages are shorter, and it enables me to track results better by using Google Analytics.
But, that's not the coolest part.
I link to every one of my ecourse lessons from other places to alert the search engines to index them. In fact, in one of my ecourses, the entire site is "hidden" behind a squeeze page, except that it's really not. 😉
So, I actually get search engine traffic to my meaty ecourse lessons because the search engines index all of my pages. In fact, I get a lot more traffic to my interior pages than I do my main squeeze page, thanks to the search engines. Of course, I have a signup box on the bottom of each page that says "If you found this message, you're in luck. You can get access to an entire series of tips entitled (insert title) just like this one at (insert URL)."
Of course, you'd want to test the effectiveness of that method to see if you get the same conversion by sending your readers to a web page rather than sending them the entire message via email verses sending them a pdf with the info in it. What works for me may not work as well for you and vice versa. Or you may choose to do all of the above. (A prime example of repurposing at its finest.)
See? There are lots of ways to get subscribers to sign up for your ecourse.
One last idea for you before I wrap up this series.
This one may get me some backlash, but we shall see.
This last idea involves using a tool. My opinion is that any tool can be used for good or for bad.
Used properly, it can be a great asset to your online business.
Used improperly, you'll look like a jerk.
So, you've been forewarned. 🙂
If you have kids, you know that a Barbie Doll can be held as a baby or as a sword. A carrot can be used by one child to poke the other in the eye. So, it's not the carrot that's evil, but rather how it's used. So, use this tool wisely or I'll send an evil carrot after you? I'm not sure where that was going... 😉
The tool that I'd like to talk about is Comment Relish. What it does is to enable you to send a one-time email to a new commenter on your blog to thank that person for commenting.
Is it like the Twitter DM's that we all hate? I don't believe so, because there is more room to offer value.
Of course, again, you can use this tool to either look like a jerk, or to offer value and win over a new fan. A proper message might look like this one. I'll draft it up for Lynn. (This is me writing it, not her, so forgive me if it doesn't sound Lynn-ish enough for you.) 😉
----------------------
Thank you for posting your thoughts on my blog. I'm happy that you found me and I hope that you enjoyed your visit at Clicknewz.com.
I'd really be interested in hearing what your #1 concern is with growing your online business. Please click "reply" and let me know. While I can't personally reply to all questions, I will certainly answer many of the questions on my blog as I can get to them.
Here are some "Hot Topics" from my blog that others have asked about:
http://www.clicknewz.com/hot-marketing-topics/
Be sure to come back soon. I'd love to hear more from you.
Warmly,
Lynn Terry, ClickNewz.com
PS. Here are some additional resources that are popular with my readers. They are all free.
This is a report entitled "10 Proven Ways to Earn $10K/Month". I've reviewed several of the ideas in the report as you'll see when you go to this page.
http://www.clicknewz.com/1892/10-ways-to-make-money-online/
If you're just getting started with your List Building, you'll truly benefit from this free report from one of my favorite teachers, Jimmy D. Brown:
http://www.clicknewz.com/wp-content/uploads/2009/07/6steps-_to_6figures.pdf
You are also welcome to check out out my free weekly webinars where I teach specific marketing strategies:
http://www.selfstartersweeklytips.com/webinars.htm
I also welcome you to join my active discussion forum and learn from other marketers:
http://www.selfstartersweeklytips.com/members/
And, yes, of course you may share the links above with your friends. I don't mind one bit.
Best wishes in your online endeavors!
----------------------
As you can see, the email shouldn't feel like ME, ME, ME! It's about how Lynn can help her new guest. And, in the list of free offers, there are a few opportunities for her to grow her list. (Signing up for the webinars, the sign-up form on her blog, and the forum link where they'd need to sign-up to participate.)
Now, just to be clear, I'm not saying to add the person to any lists automatically. I'm including an invitation at the end of the email to him or her to check out resources. Big difference.
Well, that wraps up my week here. I hope that you've enjoyed this series and are thinking of ways to profit from ecourses. I love my automated income and hope that you discover the wonders of passive profits, too.
Warmly,
Nicole Dean
To keep in touch with me, sign up for email notifications on my blog & podcast. Thanks!