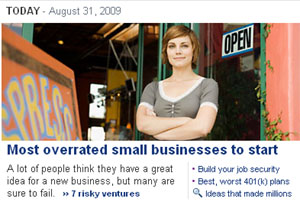 In an article on Yahoo! Small Business this morning, 3 of the 7 small business ideas mentioned were work-at-home or web-based.
The article states that "many people do a lousy job of picking businesses they can realistically turn into a profitable operation."
The co-authors go on to say that most aspiring entrepreneurs consider small business ideas that are cheap or easy to set up, or start a business based on a love for the product or service - instead of basing their decision on true profit potential...
Here is the quick list of the 7 small business ideas they consider "overrated":
Restaurants
Direct Sales
Online Retail
High End Retail
Independent Consulting
Franchise Ownership
Traffic-Driven Web Sites
I've highlighted the 3 business models that are "work at home" options, but we could easily add Independent Consulting as a 4th model that can be done from a home office and/or as an online operation.
I have no experience with running a restaurant, a high-end retail shop or owning a franchise so I'll hold comment on those and focus on the other models on this list. My first business was a service-based company that I originally started as a home business and quickly moved to a 5000 sq ft showroom in a commercial building - but not what I would consider any of those 3 models.
Of the four web-based options, Direct Sales and Online Retail require a higher initial investment. Consulting and Traffic-Driven Websites have a lower level entry and are very inexpensive start-ups.
Direct Sales - I agree with the authors that it is the Top % that performs well in direct sales. To some extent the model itself supports this, because as the company grows the top tier stands to profit most. However, the closing statement on this model didn't sit well with me:
The result, Yancey says: "Most of them wind up with a bunch of jewelry or kitchen equipment sitting in their basement that they can't sell."
That they can't sell... or that they don't sell?
The fact is, direct sales companies attract people who aren't willing to invest time and energy with their marketing message of "get rich quick". Those who do work the system, reap the rewards.
From my point of view, most direct sales companies don't offer a high enough quality product, at a reasonable enough price. Or better said: the product sucks and it's priced too high, making it hard to sell. I say this from my experience with 3 different direct sales companies that I worked with in the 90's.
Online Retail - The article focuses on selling retail product through popular marketplaces such as eBay and Amazon. I agree that was highly profitable back in the late 90's, however most merchants are now selling below retail or even at wholesale in these marketplaces, making it difficult to break in with a decent profit margin.
That said, there is still room to take advantage of these marketplaces - or at least, the amount of traffic they pull as household names. They key is to set up an online store outside of eBay or Amazon, and then use creative and strategic means to funnel traffic from there to your own website.
This would require an investment in product, or a solid relationship with a dropshipper. It's also a very active business model which would ultimately require employees to avoid 80 hour work-weeks for marketing, customer service, inventory management and product delivery.
My solution? Affiliate Marketing. Online Retail is alive and thriving, but you can tap into the billion dollar industry more easily by becoming an affiliate for popular online retailers. This cuts out the need for inventory, shipping, and customer service - and allows you to simply focus on the market.
And cashing checks - which is hard work 😉
If you want a sneak peek into how Affiliate Marketing works, see these videos by Rosalind Gardner.
Traffic-Driven Web Sites - The authors focused on Social Networking Sites competing with the likes of Facebook, and also popular blogs, saying: But as the Internet ages, that's much harder to accomplish...
He goes on to say, "Until you get to the point where you have a million page views a day, you're nowhere."
Pfft! Whatever 😛
Okay, so trying to be the next Facebook or Twitter is shooting high for your first internet-based business model. That's not to say there aren't plenty of creative ideas or market slants yet untapped. But you do not need a million page views a day to earn a nice living from home with "traffic driven websites". Speaking of which, aren't all online business models or websites... traffic-driven?
None of my web properties get a million page views per day, and I make a very nice living online.
Independent Consulting - The small business ideas for people who have a particular in-demand expertise could fall under titles like consulting, coaching, mentoring, training, etc. The article knocks it as a viable idea because independent consultants have to spend far too much of their time scouting for new clients or marketing their services.
Um - solution: market smarter. Position yourself in the exact place your ideal clients are searching for you. Let them find you at the point that they need you most and are actively searching for your services and you'll never hunt for work again.
Overall the article had a very negative and discouraging slant, which I assume was the intention. I'd be curious what these two authors consider to be small business ideas that do hold high profit potential.
Obviously I disagree with much of their reasoning for why these 7 small business ideas are overrated, or most likely to fail. Personally I feel the biggest reason for failure has more to do with lack of planning, and lack of follow-through - along with the mistake of working hard, instead of working smart.
I quit my last real job in February 1997. I was working 40-50 hours a week and still fell below the poverty level in terms of annual income. I was feeling major burn-out, didn't have enough time to spend with my family, and was getting nowhere fast.
I had major incentive to make my first business a success. And I did. And here I am, almost 13 years later, making more money and having more fun than I ever could have imagined - in a business I absolutely love!
Don't believe everything you read 😉
Success, or lack of it, is up to YOU.
Best,

p.s. If you would like to brainstorm small business ideas, or are interested in starting your own successful online business, join us at my Internet Marketing Forum. I'd be happy to answer any questions you have, and help you get started on the right foot.