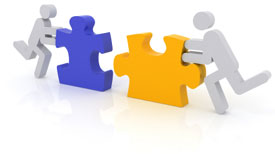 We recently discussed how to recruit super affiliates, so I want to go further on that and share ways you can build on that relationship with your top affiliates.
Merchants and Affiliate Managers have specific needs and objectives, and so do their Super Affiliates. Sometimes the two don't necessarily see eye to eye, or the objectives may not jive. This is where it pays to have an open mind, and a vision of the bigger picture - the ultimate objective.

There are 5 major issues that I hear from both sides. I'll address each of these issues from my side of the fence, as an active super affiliate:
The Cost of Affiliates
Merchants sometimes question the cost of affiliates. To those merchants, I would say: consider your affiliates as your marketing team. Instead of paying an in-house marketing team, you pay based on performance only.
You will reach customers that you may not have reached otherwise, so your affiliates are actually generating revenue instead of costing you money.
Affiliates will also create buzz across blogs and forums, and start social media conversations. These discussions coming from a variety of sources are much more valuable than one company shouting about their own product.
While employees may expect or require regular pay raises, regardless of their performance, affiliates can simply be rewarded based purely on performance.
Branding Issues
Super Affiliates will often register a domain name and redirect it to the merchant site as a means of cloaking their affiliate link. This can cause some concerns over branding for the merchant.
Case in point is my domain redirect for Mobile Store Maker, which is http://www.easymobilestore.com. While affiliates can and will create buzz and exposure for your brand, the main objective is to increase sales.
If a merchant is especially concerned about preserving their brand, they can easily set up special landing pages on their domain for super affiliates.
The affiliates job is to pre-sell the product, and bring you new potential customers. Branding, conversions and follow-up are the responsibility of the merchant.
Interact With Affiliate Campaigns
You may not be able to keep tabs on every single affiliate in your program, but you definitely want to keep a finger on the pulse of your super affiliates.
Set up Google Alerts, groups in TweetDeck, a directory in your Feed Reader, or however it is most convenient for you to keep an eye on their promotions.
This allows you to enter the Social Media conversation and/or the discussion within their blog comments and provide additional support and credibility. Not only does this increase conversion rates, but it also strengthens your relationship with the affiliate - which will give them incentive to continue promoting for you.
Don't Compete With Your Affiliates
Never, ever, ever compete with your super affiliates - especially not on their turf. If you enter an affiliate's Social Media conversation on Facebook or Twitter, or you comment on their blog post, use your affiliate's referral link to your site - not a direct link.
You want to support your affiliates 100%. The minute a gaping black hole opens up that bypasses their referral link... is when you'll lose them as a promotion partner.
Be A Team Player
Treat your top affiliates - your super affiliates - like partners. Consider them part of your team. They will often have valuable feedback, or spend their day interacting directly with your target market, that could be as much an asset to your company as the sales they generate.
Best,

p.s. Rosalind Gardner turned ME into a $uper Affiliate. Whether you are new to affiliate marketing, or looking to take it to the next level, you'll benefit from her Super Affiliate Handbook. That link will take you to my in-depth review of her latest version of SAH. It's updated often. Enjoy!