Since my recent breakthrough on the concept of organization and productivity, I have been incredibly inspired and working strategically to make positive changes in my work space. I have been paying special attention to the things that bother me most, slow me down or seem to be obvious 'problem areas'.
It is very easy to come up with "the wish list", but I honestly dont have the time and energy to throw myself into a huge make-over project right now. I decided instead that I would use practical means to simplify my space... and go for an easy solution that wont be overwhelming.
The goal is to make changes that reflect my personal style, eliminate obvious problem areas, and to increase productivity - while decreasing stressors.
My biggest problem area is "stuff". I first had to identify exactly what all this stuff is, why it's there in the first place, and what I could possibly do with it or about it.
I started out by categorizing this stuff into 3 groups: stuff I have collected over the years that I dont use anymore, necessary stuff that I use every day, and stuff that isnt working for me at all and desperately needs a solution. Task Lists fall into that third category. Since I am an out-of-sight-out-of-mind type of person, I have used hand-written or printed lists to attempt to keep myself on task.
Unfortunately, everything doesnt fit right in front of me when it's on paper. After awhile there are too many papers, a paper mess, which turns into a paper pile, which gets shoved out of the way to make room for a new list.
The obvious solution is to quit using paper... but I've tried using documents and file folders on my computer, and those files are just as 'out of sight' behind all of the windows I have open as anything else. I've also tried using computerized calendars and task lists, such as the features that come with Outlook, but I end up with too many windows open crowding my screen space.
Thinking through all of this realistically helped me to come up with the perfect solution. Not just what I think I want, or would like, off the top of my head - but a strategic solution that will increase productivity dramatically.
Step One
Get rid of everything that I dont need, FlyLady style. This includes stacks and stacks of CDs, old files, hardware and software boxes, etc etc etc. I am not going to break a sweat over this step - just throw it out and be done with it.
Step Two
A simple upgrade to my current computer system, which will consist of: 2 flat panel monitors, a dual monitor video card, and memory upgrade.
I had considered a whole new system, but decided that simply wasnt necessary. My computer runs very smooth, is set up the way that I like it... and I want this entire decision-making and switchover process to be as simple and easy as possible.
With a dual monitor set-up I can run my communications, calendar and task list (with audio/visual alerts) on one monitor - and my daily work on the other. This will eliminate the need for paper lists, keep my tasks in front of me, and not be in the way of my work. The perfect solution.
Step Three
Replace my desk. I have had this one for going on 7 years now... and I'm ready for a change anyway. My current desk is a large U-shaped desk with a full hutch and filing drawers. Plenty of hiding places, plenty of room for "stuff" to stack up.
In addition to simplifying my work space, I wanted to change the look of the entire room. I am working from a home office, so even when I am not working I have to 'live with it'. I decided on a desk that is large, simple and a good fit for the room. It's certainly not expensive and fancy, and not my "dream office" by any means, but it is a perfect match for my 'quick solution':
Notice that there are no drawers 😀 . It is actually larger than it looks as I am ordering the 60"x30" model. It is on clearance and with free shipping - you cant beat that! I linked the image to the site where I am ordering in case you are interested in browsing their deals yourself.
The plan is to use a corner bookshelf and a matching printer stand alongside this desk. And with no hutch to get in the way, I'll use the wall space for whiteboards, wall calendar and corkboard.
Step Four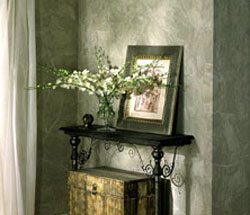 Last week I ordered samples from www.wallpaperillusions.com. This is a super-simple room make-over solution for NON decorator types (ie ME). I have been going back and forth for months now on whether I want to wallpaper or paint this room... and not being experienced at either, I was having a hard time making a decision on which way to go.
This is the perfect solution for me! I received my samples within a couple of days, selected a matching finish for this room, and will be ordering that today along with my desk and hardware.
The entire Home Office Makeover will cost well under $500 - not including computer equipment, of course. This includes a new desk, new office chair and wallpaper. I'm off to find a good deal on monitors and memory... 😀
P.S. Join us for a discussion on this topic at Identifying Problem Areas, Increasing Productivity at the SSWT Discussion Forum!
Technorati Tags: home office, make-over, work at home, computer desk, organization