I know firsthand how challenging it can be to get an online business off the ground, and to reach your lifestyle and financial goals.
Yet, you see other people making money online (easily?) every single day.
What's the difference between them and you?
Not much, actually.
I learned so much of this the hard way myself, having started online back in the 90's before there were guides and tutorials and conferences and such...
I recently asked my private mastermind group, and my friends on Facebook, what frustrated them most about their online business. I could relate to almost every single response, having been there myself at one point or another.
You're about to discover SIMPLE solutions to some of the biggest challenges you're dealing with in your online business - and experience a serious breakthrough in productivity!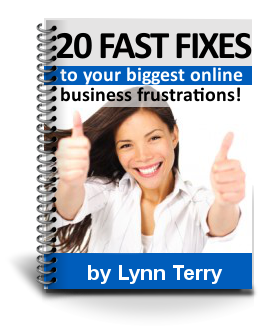 I decided to sit down and create a solution that will make a real difference...
The result is a 25 Page Report that will give you actionable advice and specific resources to help you overcome the top 20 most common challenges we all face in running an online business.
I intentionally kept each topic short and to the point, cutting out pages and pages of wording, to make sure you could easily grab what you need most - and RUN with it. 😉
Note: This report was taken off the market shortly after it was released, and is only available now for a very limited time.
Here is a detailed outline so you know exactly what to expect:
1. The BIG Difference Between "Online Business" and "Making Money Online"
2. Your Starting Point: How To Set Up A Successful Online Business
3. Lack of Direction: "I'm Not Sure Where To Start or What To Do!"
4. Learning vs Earning: Striking The Balance For Growth & Profit
5. Mindset, Mood & Attitude (The UNlearning Process)
6. From Lack of Follow-Through... To Breakthrough
7. "I'm A Perfectionist, And It's Holding Me Back!"
8. Time Management: Making The Most Of Your 24 Hours
9. Productivity: Being Productive vs Being Busy
10. Organization In A World Of Chaos
11. "I'm Completely Overwhelmed!"
12. I Have Way More Ideas than Time...
13. Lack of Technical Skills or Knowledge
14. "My Business Is Not Growing Fast Enough!"
15. Keeping The Content Flowing
16. Monetizing Your Site or Blog
17. Improving Your Conversion Rate
18. Creating Passive Income Sources
19. Increasing Your Web Traffic
20. Finding & Engaging Your Target Market
- Additional Online Marketing Tips & Tutorials
One single tip or idea you take away from this report
can make a dramatic difference in your business!
As I mentioned, this report was pulled off the market shortly after it was released, and was only available to members of my private brainstorming group. But you now have one last opportunity to grab a copy for HALF price, along with a very handy bonus that will pay for itself over and over. 😉
Limited Time Half Price Deal + Handy Bonus!
This valuable, content-packed report was originally offered for only $14.95. A steal really, considering how much I poured into it, and what you can get out of it. It was only available for a short time, then made as an exclusive bonus to my members.
I recently received even more positive feedback from a few readers that really enjoyed the report, and let me know exactly how it helped them in their own business, which made me want to put this report in the hands of even more people that could really use "the right information" to get ahead.
Not only am I going to let you download it for half price - which is only $7.47! - but I am also throwing in my handy dandy Domain Name Guide just to sweeten the pot. 😀
The bonus guide alone will pay for itself over and over by helping you brainstorm and select domain names that can make you really stand out in your niche!
Here's the deal: only $7.47 for both guides. No catch, no opt-in, no backend marketing, just one click and straight to the download page:
The information you'll get from these two guides will prove VERY helpful as you continue in your online business. These are the very things I use and do myself, and use to help others succeed in their online business every day as well.
Simply put: You're going to love it!! 😉
Best,

p.s. Both reports are free to members of my Private Brainstorming Group. If you're a member, you can download your copies there. If you're not yet a member, and you need hands-on help with your online business, I would love for you to join us!