Traffic Question #1
from your traffic questions
Ade Lamidi asked:

What it the best way if there is any to monetize the traffic that you get to your sites? This is traffic that includes both qualified and unqualified traffic.
How To Monetize Website Traffic
This is a great question. As you know, there are many ways to monetize a website. You can sell your own products, promote affiliate programs, use contextual advertising, etc. Any method that you choose to monetize a site should be chosen strategically - or specifically for your site.
Obviously any of these methods, or even a combination of these methods, will work well in theory. The trouble is, no one thing works best on all websites.
There are different types of websites, such as:
ecommerce sites (shopping)
content sites (info)
mini-sites (product)
interactive sites (community)
... to name a few. If you put contextual advertising on a mini-site that was originally created to feature one product, obviously those ads will distract visitors from purchasing that product. So it makes sense to monetize a website based on the purpose of that site.
To determine how you should monetize a particular site, answer this question:
What is the purpose of this site?
Your answer shouldn't be "to sell products" or "to make money", but rather answer that question from your ideal visitors perspective. Walk through it like this - as if you are your ideal visitor:
How did you find the site? What made you decide to click on that link? What did you expect to find there, and why? Did you find what you expected, or not? What mindset are you in, and what will you most likely do next?
Sometimes it is easiest to start with your stats and pick a recent live visitor as an example. Let's walk through that so you can get an idea what I mean, using ClickNewz as an example.
I looked in my stats program and noticed that "content composer" is a phrase recently used to find this site in the search engines. I went to Google and typed in that phrase, and found that 2 ClickNewz pages rank #7 and #8 for that phrase:

I stop here and determine what kind of visitor this is. What do we know? We know that the person who performed this search had already heard of the software and knew it by name. Since they were searching for it by name, they are most likely looking for reviews or information to help them with their buying decision. Agreed?
side note: If you scan over the top 10 results in Google for the phrase "content composer" (without quotes), you will notice that my two listings are the only two that lean towards the negative side. This would likely entice clicks from the searcher who is looking for details on a new product.
Getting into the mindset of the visitor, I then clicked on the first ClickNewz page shown in the search results (currently #7): Content Composer Launch, and viewed it from 'their perspective'...
The page basically says "I dont have anything to say yet" - which made perfect sense when I wrote it, and to a regular reader who keeps up with my posts in the order they are published. But not to a visitor who surfs in from Google looking for my opinion on the software product.

I am in my visitors shoes. I scroll right past the Adsense Ads at the top of the page, as I am most interested in the content on the page - and what it says about Content Composer. I get to the end of the page and... there is nothing. No call to action, no reason to click on anything. So I hit the back button on my browser and continue my search at Google.
(bad lynn, no cookie! 😛 )
Knowing what I know from this process, how would I monetize this page? I would add a call-to-action at the end of the short post. In fact, that's what I did as you can see in the image below. I added a link to my actual review (which is what they were looking for) as well as my affiliate link for the official product page: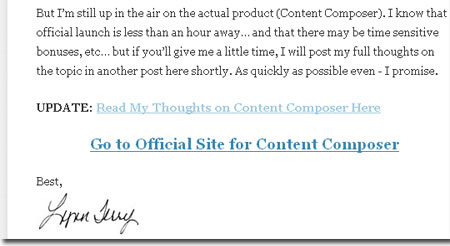 What you can take from this example is that each page should be monetized specifically for its ideal visitors. Monetize it for them. Obviously I could have placed Google Adsense, or some other form of contextual advertising, at the end of that article... but what the visitor is really looking for is specific information about that particular product.
So we give them exactly what they want 😉
After you have walked through your website, entering from the various entry pages even, analyzed those pages from your ideal visitors perspective and then monetized accordingly... your next step is to track, test & tweak.
Split test between ad formats if you are using contextual advertising on content pages. Split test between headlines or your call-to-action if you are working with sales copy. Each site will perform differently, so its important to continually test and then track the results so that you know what works best on your site.
Here are some general tips to keep in mind along the way:
Dont use contextual advertising (such as Google Adsense) on sales pages or product pages. The purpose of those pages is to make sales, and you dont want to distract your visitors from that action - or encourage them to visit your competitors' sites.
Split test similar affiliate programs on content pages. You may find that one program converts better with your visitors than another.
Dont overwhelm your visitor with too many options. Create a clear call-to-action and lead them into it strategically with your copy or your page layout.
Have a question about Website Traffic?
Post it here: Traffic Questions!
Best,

Also See: Optimizing for Search Engines... AND Visitors
---
**SPECIAL OFFER** Learn SEO for FREE
(Do not miss out- I'm not sure how long this offer will last!) If you hurry you can get 2 free products from StomperNet, one of the best training companies on the internet. You'll get a free video course teaching you how to get your site ranked in the search engines, and a copy of The Net Effect - the premier print publication with step-by-step online business training. Get Details Here
---