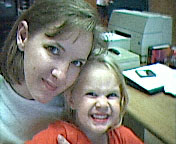 You see that cute baby girl sitting in my lap? She is about to turn 11 years old, and she is almost as tall as me now. But back then, she was my lap buddy, and sat in my lap and wreaked havoc on my desk space while I worked from home...
I was 24 when that picture was taken, she was somewhere around the age of 1. It was 1997.
Most of you are familiar with my start-up story, and the crazy risks I took to leave my job as a Unix Sys Admin in a small town to start my first business.
Everyone I mentioned it to, including my husband who was involved, thought it was nuts - to which I replied "Ahhh pfft - we can always go out and get another job if this doesnt pan out. It's no big deal."
True enough 😉 And fortunately I've never had to.
My first business was an electronic repair shop. I was married at the time and my husband was the best damn technician around. There wasnt anything he couldnt fix, and I always joked that man would build me a time machine one day.
While I didnt have any formal education, I figured I could manage a business and run an office as good as any girl could - and was motivated enough to learn as I went. I had not had much luck in the local job market, usually holding a job but never anything fulfilling or that paid enough to even get by. My husband wasnt even as lucky as that, and was out of work more often than not.
We had four children between us - 2 his, 1 mine, and 1 ours - to raise on my one check that was usually not much more than minimum wage. Well, that and all the overtime I could get.
So call it crazy if you will, but crazier would have been to do nothing at all.
We had nothing to start on. We didnt even have business cards or phone lines, mind you - and we started "the shop" out of our home. My husband had an awesome skill though, and as naive and in love with him as I was, I was 100% confident that he could out-fix any technician in the state.
So that's what I sent him out to do. He visited every "competitor" within range, and offered to fix their "dogs" (the electronics they deemed "NWR" - not worth repair). Day after day he came home with the worst repair jobs imaginable, and fixed almost all of them.
It wasnt long before our reputation afforded us a phone line and yellow page ads, a small sign out front and a few luxuries - like a desk and a workbench.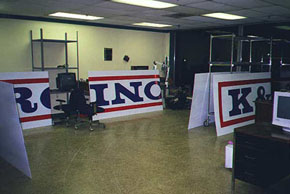 And within 6 months I was writing a new business plan, and scouting professional shop space. The picture you see to the left is the building we moved the business into that same year - with over 5,000 sq ft of showroom, 8 offices and a warehouse.
We had a HUGE sign painted to go out front, which is what you see drying there in that picture. It didnt meet "codes" - but hey, I was learning as I went. And we did hang that sign, and nobody ever made a fuss over it. We were "in business"!
The kids were almost 1, 6, 6 and 9 years old... and they loved every minute of it. We were both home full time for them, and even when we moved the business into the shop they were there anytime we were.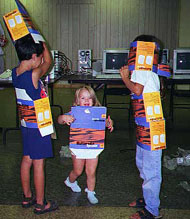 It was hectic some days, but for the most part the kids found ways to enterain themselves. Just look how many kids you can fit into computer speaker boxes! -->
That first year in the shop, I had taken a major interest in computers and so I bought the parts for 6 full systems and we put them together and set them up.
I had already gotten into web development by then, and expanded into computer training classes and network gaming tournaments (we played Quake II and my screen name was "Queen"). We did custom builds for gamers, I had classes in the evenings, all on top of our usual daily business of electronic repair.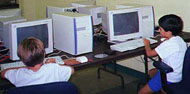 My son was somewhere between kindergarten and 1st grade at that point, and he took a genuine interest in computers and gaming.
He's almost 16 now, and more interested in a dedicated server than a drivers license.
He is about to release his first game into beta version 😀
The shop was running great, complete with plenty of customers and employees. Days were filled with ringing phones, walk-ins, repairs and insurance claims. Evenings were taken up with computer training classes or network game tournaments. The kids were present and involved in almost every aspect of our business... and life was good.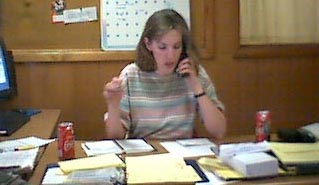 As if I wasnt already busy enough, I launched Web Service Network that same year, and put together an international web development team. What can I say - I like a challenge (as long as I have enough caffiene to keep up lol).
A year or so later my husband walked out on our marriage. A sad time for sure, but all turned out fine in the end. I gave him the shop in the divorce, and I took the web dev business. And that, my friends, is how it all started... 😀