To follow up on Nicole Dean's question about how I make money online, I thought I'd give you an inside look at some of my recent affiliate promotions, and online income sources.
So far this month (just over 2 weeks), 32% of my gross income has come from product sales, and 68% has come from affiliate commissions. Product sales include products I developed, products I have rights to, and virtual products (such as memberships and advertising).
Some months it will be opposite, with the product sales bringing in the majority of the income. It all depends on what I am working on, of course.
Would you like to see some specific examples, along with screen shots? Okay...
I'll start with an affiliate program that I dont actively promote. Its a passive-earner. The way that I promote the program is through one web page. That page ranks well in the major search engines for a variety of keyword phrases related to the product I promote there.
I cant remember exactly when I put that web page online, but I believe it was around 2 years ago. It has been a consistent earner ever since, earning on average around $10/day: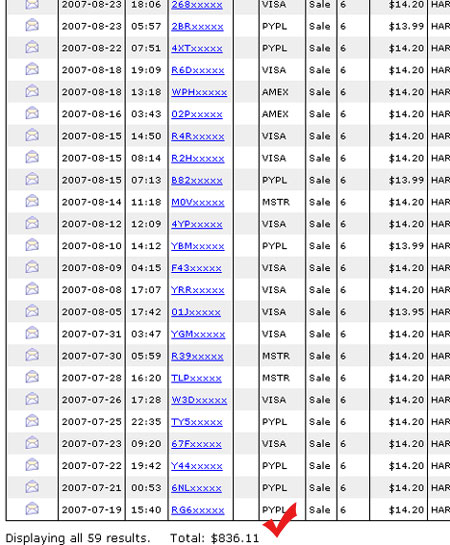 The screen shot above shows my sales on that one product for the last 90 days. Keep in mind that I spent 30 minutes creating that web page about 2 years ago, and havent touched it since. So 30 minutes of time invested = approx $300/month in continuous revenue.
Passive Income is my favorite type 😀 I have an upcoming guide on the topic, for those interested. Its been a long time in development, but there were some major changes since I first started writing it, so I have it on the back burner for a major re-write. You can get on the list if you want to get notification when it's released.
Let's see... Remember the recent blog post (Oct 13th) where I addressed Rosalind Gardner with a personal note? I hyperlinked the mention of her Super Affiliate guide within that post, though there was no direct promotion at all. I earned $56.46 in commissions:
Accidental Commissions are nice. (I dont have a guide coming out on that topic)
That actually goes towards the tips I shared in the recent Super Affiliate Blogging interview. Being "real" and not always pushing the "hard sale" tends to work well. Another tip I mentioned is doing product reviews, and I've had great conversions with reviews over the years...
Two recent examples include Impact Web Audio and Optin Designs. If you click those links you will see my actual reviews. Both included product details and working examples.
Impact Web Audio was offered as a daily special through DealDotCom at only $5. The commission for DDC affiliates is 35% on the first tier and 15% on the 2nd tier. So I only stood to earn $1.75 on each direct sale, 75c on 2nd tier sales.
I put the blog post together in under 10 minutes, and then spent 2 minutes creating the working example. So we'll say 15 minutes tops - and total earnings on that were $69.58 (plus a lot of happy readers).
Optin Design is another product I am using myself, and also an affiliate for. The commission structure is 1-tier at 60% of the sale. I have earned $111.00 so far for that review. I expect that amount will continue to rise - I recruited over 100 people into the site so far, with 5 converting to buyers. Once they use the 2 free templates, that conversion rate should go up. It's an awesome product.
While $50-$100 per blog post might not sound like much to you, you have to keep in mind that I blog anywhere from 2-6x a day. Promotions go fast, and blog posts move off the main page and into the archives fairly quickly.
Obviously more traffic would equal more income, as is always the case. My blog is barely a year and a half old and has just recently reached the 10-digit traffic mark (with 10-12,000 unique visitors per month).
Still, you'd be hard-pressed to earn a minimum $50-$100 per blog post any other way. And those are just 2 examples - some promotions do better than others, of course.
Want to see bigger numbers? No problem. Most of my affiliate commissions come from such a wide variety of sources that individually they dont seem like much - though they total nice numbers at the end of the month.
For bigger numbers "per promotion", we'll look at some recent product sales (sales of my own products)...
I recently ran a WSO, which is a Warrior Special Offer on the Warrior Forum. My special offer was for an exclusive report that I wrote, and I practically gave it away at only $5 per copy. I sold 103 copies, for a total of $515.00 in sales.
That report is a lead generator, and also resulted in backend sales on two higher priced products. Total time invested: less than one hour. Cost to run WSO: $20. Total income generated: still being calculated (promotion still in progress).
Another pre-launch fire-sale for an Info Product that I ran on the Warrior Forum (as a WSO), resulted in 204 sales at $10 per sale for a total of $2,040.00 in product sales. I ran a Special Offer myself and with a few hand-selected JV partners on that same product, bringing the grand total (to date) to just over $4,000.
If you include backend sales, that total is over $6k. Yes, during PRE-launch. If you like that idea, you should read my Fast Cash Strategy 😉
Let's see... I've earned $4,913.10 in the last 2 weeks for an affiliate promotion. This particular promotion was not a passive income model. And no, I dont have a guide on Active Income Business Models either. That would take all of 4 letters: W-O-R-K. I'm not beyond working for pay, as bad as that 4-letter word sounds coming out of my mouth...
And FYI, that particular promotion has been hard work...
I couldnt get the entire list in one screen shot, but you get the idea. And the total I gave you is my net income in commissions. I actually earned over $7,000 but I didnt include refunds in my earnings.
I'm trying to be honest here, ya know 🙂
Okay, one more - and this one is another of my "passive income models". Again, a one-pager that I put up a couple of years ago that is a consistent monthly earner. It promotes an affiliate program and they pay commissions every 2 weeks, which is nice.
I earn a commission per-lead, and also a percentage per sale. Its a generous program that converts well. My rankings for this one arent that great, but good enough to generate several hundred dollars per month in profits. Again, low investment (I spent 10 or 15 minutes putting this together awhile back) and nice return:
The column to the far right is my overall earnings with that company, which is almost $7,000 total. Its been online around 2 years (no maintenance - love it!) and earns close to $300/month as a consistent passive stream of income.
Do not let these numbers inspire you. I could do far better, and so can you. In fact, I have a 10x Goal that I am starting during the New Year (for 2008) that you'll hear about over the next few months. The gist of the 10x Goal is to increase my numbers and results across the board by 10.
If I can do $300/month in sales for one product, I can do $3,000. If I can get 10,000 unique visitors per month on one of my sites, I can get 100,000. If I can sell 50 copies of one product, I can sell 500. Its all about duplication... and having a good VA on board, of course 😉
Best,

P.S. If you would like for me to help you earn a substantial amount of money online, become an Elite Member by joining my Private Brainstorming Group where you can download all of my products for free... and get personal help with your business idea or business model. It is the ONLY place that I offer personal mentoring or one-on-one consultations. Its a small but active group of serious entrepreneurs, and you'll get a lot of 'bang' for your buck... get details