Day 21? What? Huh? How can it be day 21 in a 20-day challenge?
That question has already been addressed in my 20/20 progress posts, but here's one I received yesterday (on Day 20) that I didnt expect:
If a 10-year veteran and marketing "guru" cant do it, then how do they expect ANYone to? The system must be flawed...
This is of course in direct reference to Michael Green's guaranteed $20k in 20 Days challenge that launched several weeks ago.
Fair enough. I'll answer both questions openly here before I get into todays update. Some of this will be repetitive for those who have followed along closely - but if its still being asked or commented on, then its worth addressing...
Its been said a number of times that I have an advantage in this Challenge due to my experience and connections. That's true and I dont deny it. In fact, I have used "my advantage" throughout the challenge - to offer free resources to challenge participants, host weekly Mastermind Meetings, answer questions on the 20/20 support forum and to help 20+ challengers personally with their individual projects.
That, in addition to managing my usual workload (which includes daily entries here at ClickNewz, managing my active discussion forum, writing for my weekly newsletter, updating my affiliate sites for the upcoming holiday sales rush, etc, etc), has taken up most of my working hours - and then some.
To state the obvious: I could have left everything (and everyone) hanging and just focused 100% of my energy to completing the challenge myself. That's not the reason that I took part in the 20/20 Challenge, and so I dont think its a fair assessment of the challenge itself to use me as a guage for its success.
While I am actively participating in the Challenge at my own pace, and very excited about the progress and the impending results, the main reason that I paid the $247 entry fee (the half price offer) was to check out the 'product' (ie offer a thorough review) and to join my readers "in the trenches" so to speak.
Mission accomplished. And I am very impressed with the 20/20 Challenge, having had this opportunity to review it from the inside and to work directly with the participants.
Many of the Challenge participants are behind schedule for one reason or another. Some of them decided to devote more time to their challenge for quality purposes. Others had hurdles to overcome, and are pressing forward regardless.
The overall morale is very high within the group, even after 3 straight weeks of high motivation and a few missed deadlines. Of course, everyone started on a different day, but the initial group is nearing or on their 20th day.
Just to clarify, I am not backing out on you here, or making excuses for the Challenge. But I dont want a misperception or a personal dig at me to discourage anyone from taking part in what could literally be a major turning point in their online business and in their life.
With that out of the way, we'll get on to an actual update...
Day 21
As I mentioned on Day 19, my project for the 20/20 Challenge is a product launch. The product teaches an awesome online marketing method that I have been testing out behind the scenes for the last few months.
I have tested this method myself, and also with several other product developers and online marketers. So part of my work today towards this project is getting 2 major case studies outlined that show exactly how this method works (in great detail).
I also started the rough draft for my lead-in and follow-up series, and outlined another (new) special report I am adding in with my product. I'm pretty excited about that one 😀 .
I'm still working on my JV list, which is growing by the day. The Elite Members at my discussion forum are helping me with my list of potential Joint Venture partners. In exchange, I'll be giving them a copy of this highly valuable JV list as a free download when it is complete.
I have a Virtual Assistant working on some market research behind the scenes, so I sent her the details for that this morning. And of course I sat down here to give you an update 😉 . So I am off now, to finish up the work on my case studies and also get prepared for tomorrows Free Webinar at SSWT...
Best,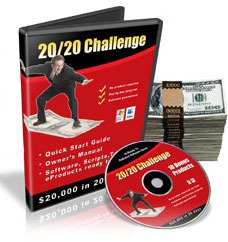 Technorati Tags: michael green, 20kchallenge, 20k challenge, 20k in 20 days